Th'Ugg Boots
This post is going to feature gratuitous use of the word nxgga because I feel this is the only way I'm going to relate to this new level of megalomania that has taken hold of "Drizzy" Drake, Lil' Wayne "Young Tunechi" and Tyga.
Before I go any further, wtf is "Tunechi"? There's words I don't care for and of course the inverse, and then there's just, tunechi. I can't explain it's origins either except that it's a new-erish alias for Dwayne Carter. I'm sure the answer's not hard to find but for fear of hauling off and whooping some dxck rider's ass when they look at me incredulously for not knowing, I'll pass.
Where was I? The Motto. I don't listen to much hip-hop or it's derivative forms these days, but this video was brought to my attention by my boy Cvangelist. The video features some prologue with who I assume is Mac Dre's (Bay area legend) mother and I'm drawing this conclusion because Drake sends a shout out to the late rapper and images of E-40 and some other Bay area nxggas are present; I don't listen to hyphy like that so I only know those two in particular in addition to Andre Nickatina, RBL Posse and only God knows why, V-Nasty. 
Now, the prologue is sweet and all, Mac Dre's mother looks as though she is maintaining but the subsequent verse from Drake is primarily glorified degradation of women after she delivers the message between her and her son about being a strong black woman. None of this is logical to me and I've been known to say some highly illogical shxt, so I know idiocy when I see/hear it. I won't even spend anymore time thinking about that in fact because I won't dawg her loss or her actions any further. I will say this though, she probably didn't have any idea the song was going to come out as such, I mean look at her mostly conservative dress sense and speech patterns. What happened was Drake's so called smooth talking ass approached her on some Baby Boy shxt (6:17-6:45) and was like, "Hi, Ms. Mac Dre's mom. My name is Jimmy Brooks…and I wanted to give a thoughtful ode to your…late, great son in a rendition similar to his musical stylings. I know it hurts sister…but if you would lend your voice and strength to what I believe is a sizable concern in the black community, I would be so gracious…" blah blah blah, you get it and then she did it. I just hope she got paid.
Moving onward. When the track first starts, I was feeling it; I actually dig the hyphy sound though not an avid listener. That 808 drum kick setting the pace accompanied by the basic snare and clap had my neck and head swaying. When the chorus hits and the synth-notes make their first appearance the groove swam it's way to my torso for a few seconds. Now, whenever an audio or video medium takes hold of my senses as in such case, I have to give it an encore listening/viewing. Ex. Akira Kurosawa's Ran resulted in an initial watch for visuals, then dialogue. 
So I made it through the first listen, eyes open but the rhythm of the song had my attention more than the actual lyrics BUT keenly watching the visuals, I witnessed some more than suspect behavior from these cats.
Track starts off with Weezy bobbing his head rocking The Hundreds gear followed by Tyga with an L.A. Dodgers jersey and Brooklyn Dodgers toboggan/beanie…yeah yeah, real clever nxgga. We then see Drake pulling down an off ramp in what looks to be a 65'-70' Chevy Impala, but I never saw the taillights (sweet ride) but what is he wearing? A fxcking leopard print North Face (the logo is boldly displayed on his right shoulder blade) with some fire red Nike receiver's gloves. As much ass as this nxgga claims to pull, every bit of his dress looks suspect. 1) Weezy has turned him out with that leopard print bullshxt, 2) Those red receiver gloves suggest he's on the receiver end of more than heterosexual sex, and 3) Where the fxck is he going and why is he looking around all shifty eyed like he has legitimate street beef?   E-40 should have smacked his weeblization for standing so close to him with that get up on because it only incriminates him as the other party in that late night tryst Drake was headed to with Weezy or one of his DL partners. After all this transpires on video and I see an image of the bridge overlaid with composite images of the trio dancing on stage. The most heart-wrenching part though? I can't honestly rip apart his verse. I mean, it's never been disputed to me that he has flow though his content has been under question; It still is. His flows aren't multi-syllabic though that's just my preference, though he's penned his own style and he's not at all jumpy with his subject matter. The delivery is calm (probably due to acting) and like an assault rifle shooting blanks essentially making it less effective than a Nerf gun or sling shot.
Who's next? Weezy F. Baby or Tunechi as he prefers I guess, though I could give a damn. It's amazing. As Young Moolah starts his attempt at going in, I notice some blasphemous behavior; I do not hate Lil' Wayne, Tha Carter II was exceptional for him. Furthermore, I see Weezy has The Hundreds fitted on but now some Wayfarers as well, sitting atop a blood red Impala (supposed gang affiliate), has on leggings that Andy Warhol or Jean Michel Basquiat designed, a diamond encrusted Cross of Peter and lo and behold, green Ugg boots. What the hell is that about? One of my pet peeves is sunglasses at night or in a dark setting though I'm sure he was/is constantly rolling. I admit that's a bit anal of me and I'll go so far as to give him a pass on the crucifix. I cannot however do the same for the leggings, boots, beanie baby clipped to his hip and Impala. Add in the fact that he's doing some kind of jig/river dance and it's getting out of hand. Car enthusiasts, bloods, satanists, sneaker heads, sorority girls and cross dressers all over should be speaking out in defense of images that are heavily tied to their identity. It's like a realization of the Aldous Snow scene where Sarah Marshall, if you've seen it, calls him out. Seriously though the Ugg boots are stretching the fabric of my reality. All of the androgynous shxt that he might have discovered while digging through the crates can stay there; If you look at the course hip-hop is taking since it's inception, it's running parallel to what produced that Nickelback shxt retail sales associates are subjected to listen to on rotation during shifts. I dislike the fact that I even have that word Nickelback in my vocabulary. I have to say nxgga just to keep my teeth white from what could possibly produce shxt stains. 
I apologize for that and seeing as how I almost became heated were it not for the fact I have no fxcks to give about Lil' Wayne, I'll forego trashing his more than sub-par verse.
Never mind, it just wouldn't be fair skip him. Weezy is all over the place with his verse from "Calling nxggas out like the umpire" to "Almost drowned in the pxssy so I swam to her butt". His punch lines fell flat on the "Wish a nxgga would like a tree in this bitch," or either it went WAY over my head because I've heard of a wishing tree but if that's what he means then that's some weak shxt. Then he comes back later with "Yeah money talks…And Mr. Ed" Was there nothing else he could think of, nothing in all this world? Then he drops a hashtag line about the energizer bunny, cuts back to an erroneous cunnilingus metaphor, more hashtag about skeeting and a water gun and then topping it all off with Sir Mix-A-Lot and "Tunechi!" 
As I mentioned, this (below) is what hip-hop/rap is heading towards. By the way, I issue a challenge to anyone one Tumblr that I bet you cannot make it through the entirety of this video by Souljaboy called, Texas. If you do, kill yourself. Just kidding, I'll buy you a dinner or send you a giftcard for the grand total 5 dollars. Not a very enticing offer but I'm a humanitarian and don't believe in cruel and unusual punishment so I sincerely hope no one would click that link. At one point this looks comparable to an alcoholic in a deep state of depression from being in way over his head.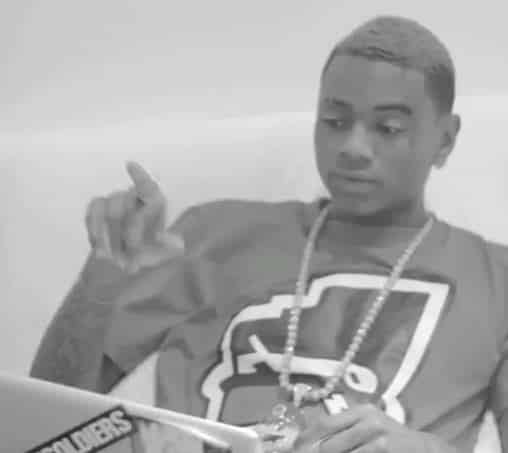 A digression and again I apologize. Tyga follows Wayne and has his staple snapback, is adorned in dookie chains, a silk or satin shirt and those circle lens'd glasses of the 90's. He's like an amalgamation of Jigga Jay-Z, Ja Rule and MC Hammer. I feel like him and Wayne got together and found the worst shxt to try and bring back and think it was kool, or even acceptable for that matter. This is one of those times where every clique, entourage, boardroom, caucus etc. needs that one real person that just says, "No, you look and sound like an idiot and I refuse to continue being a part of your foolery. What? No, I don't give a damn how much money you have nxgga." You could debate and say it's part of the image that helps them sell. True, but have you seen what became of Vanilla Ice and Gary Coleman since those days? Not everybody can be a Jay-Z and make the transition effortlessly. Then we get to his verse where he has the nerve to call somebody a "funny nxgga" when he's a funny looking nxgga. Then he goes into saying, "Fxck around get dragged/RuPaul." Explain yourself Tyga. That sounds suspect to me and therein lies the problem with hashtag rap when ineffectively used. I admire it's added kick if a rapper uses punch lines but not everyone who applies it does so. Overall, I've never been a fan of Tyga lyrically, that's just how I feel BUT he has bravado making it understandable why he can carry a show of some odd thousand amount of people.
That obviously counts for more than it should but hell, peace it…….wait, that's something entirely different. I think it's time for me to turn it over to Bridget Gray and provide a woman's perspective.
allthingsskim likes this
thisisyates reblogged this from booradical
booradical posted this